Secure Channel Specifics
Yubico Secure Channel Technical Description
Yubico Secure Channel Key Diversification and Programming
Introduction
The term "key diversification" refers to the process of deriving a secure channel static transport key set from a Batch Master Key (BMK), the YubiKey identifier (part of serial number), and additional metadata.
Benefits and Usage
Key diversification enables simplified and secured distribution of secure channel transport key sets as only the Batch Master Key must be shared with the CMS system to derive the YubiKey transport key sets.
Hence, the secure channel transport key sets can be pre-programmed by Yubico, assuming that Yubico has access to the BMK of the CMS vendor.
Another option is for the CMS system to generate the secure channel transport key sets based on the YubiKey serial number, the BMK, and additional metadata. The CMS can then use the initial secure channel transport key set for writing additional secure channel transport key sets to the YubiKeys.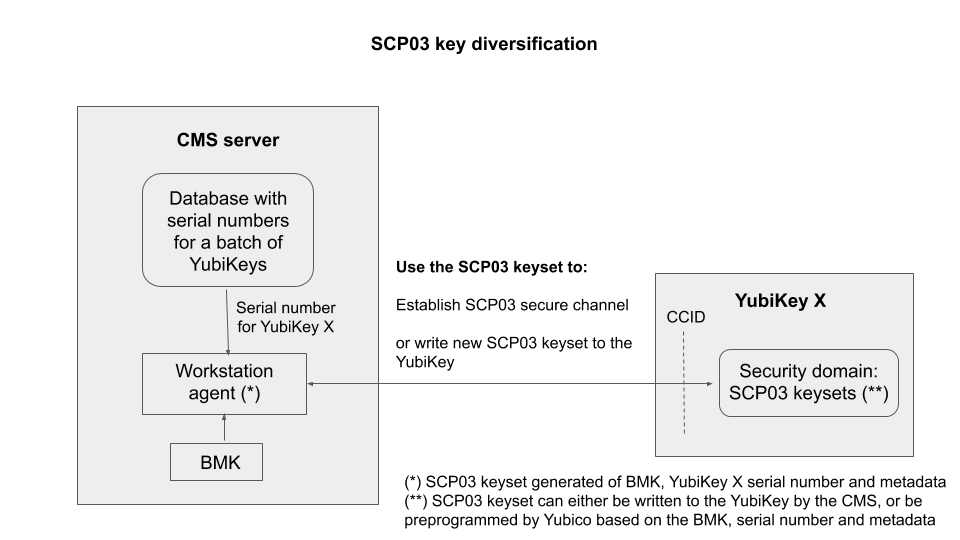 SCP03 Key Diversification
Secure Channel and Security Domains
The YubiKey supports up to 3 secure channel transport key sets. This is to enable more granular control over the establishment of a secure channel to a specific device. The keys in each of these key sets can be overwritten once connected to the YubiKey, allowing for a YubiKeys to be shipped with a default key set, then have the key set be changed to a random set of keys at initialization, ensuring only the CMS server has the actual keys.
Key Diversification Option
When purchasing YubiKeys from Yubico, there is an option to custom-configure the transport keys from the default to values derived from details specific to the hardware and a BMK. This means these keys can be distributed with locked down key sets, ensuring they cannot be connected to remotely by third parties. The BMK is generated and owned by the customer, who in turn can provide it to Yubico and their CMS deployment. The CMS can then use the BMK to establish a secure channel to a customer's YubiKeys, and set new transport keys during initialization, limiting access to just that CMS. As with other custom configuration options, these keys can be overwritten or deleted by the customer; they are not "baked into" the YubiKey firmware.
Global Platform: CPLC Data
Description
Although this format is officially deprecated and not part of the GlobalPlatform specification, some organizations need support for the information stored in the so-called CPLC (Card Production Life Cycle).
This consists of a static set of bytes can can be retrieved with a GET DATA command (INS 0xca) and TAG 0x9f7f after selecting the SD application.
The response is 42 bytes that can be parsed into different fields with different meanings. However, Yubico elected not to attribute any specific meaning to 40 of those bytes. Only the first two bytes are meaningful.
Example Command
To retrieve the value (scroll horizontally if necessary):
opensc-tool -c default -s 

'00a4040008a000000151000000'

 -s 

'00ca9f7f'



Relevant Output
40

 

90

 

73

 F9 

53

 

94

 C0 

01

 

23

 D8 E9 F0 

68

 3A 

48

 9A @.s.S...#...h:H.


76

 

30

 4C D8 F6 CC 

41

 

66

 

61

 0F C4 F5 8C DE D6 

93

 v0L...Afa.......


77

 

32

 

09

 

82

 1B EA 0C 

78

 3D 8B                   w2.....x

=

.

Of those 42 bytes, only the first two (40 90) are meant to signify an Infineon SLE 78 chipset, the rest are random bytes generated when the SD application is (re)initialized.
---
To get in touch with Yubico Support, click here.
Yubico SCP03 Developer Guidance
This section describes how Secure Channel Protocol 3 works in the YubiKey for developers integrating support for it.