Download the Yubico Authenticator App
Yubico Authenticator adds a layer of security for online accounts.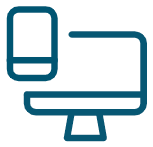 Generate 2-step verification codes on a mobile or desktop device and apply cross platform.
Experience stronger security for online accounts by adding a layer of security beyond passwords.
Secure all services currently compatible with other authenticator apps, including Google Authenticator.
Download Yubico Authenticator Options
Download the latest versions from the Yubico Authenticator download page. Links are provided to download directly or by selecting the appropriate store. Or select the direct link listed here.
Download and Install the Yubico Authenticator App for Mobile
Use the Yubico Authenticator for Android and iOS, including secure tap-and-go authentication for NFC-enabled mobile devices.
For mobile devices download and install are completed through the distribution method.
Android
Download for Android from Google Play
Install Yubico Authenticator from Google Play
iOS
Download for iOS from Apple Store
Get Yubico Authenticator from Apple App Store